Arts Attack November Teacher of the Month: Kevin Needham
Arts Attack Teacher of the Month!
The Arts Attack Curriculum has been taught in classrooms, virtual classrooms, after-school programs, co-ops, and homeschool settings for over 20 years. There have been so many wonderful teachers, parents, and volunteers who have used our program to bring the arts to education. We thank all of them and would like to introduce one special teacher as our "Teacher of the Month!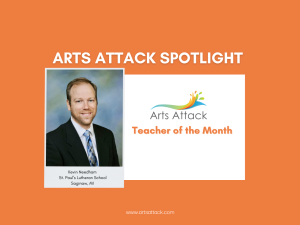 Congratulations to Kevin Needham from St. Paul's Lutheran School in Saginaw, Michigan for being in our Teacher Spotlight for November!

My name is Kevin Needham, and I have spent all my 20 years of teaching at St. Paul's Lutheran School in Saginaw, Michigan. I have a wonderful wife and four children. I enjoy all things musical, home improvement projects, and spending time with family.

Arts Attack was recommended to me by an art teacher when I mentioned I was looking for an art curriculum for our upper grades. I have been very pleased with the program. I like seeing how my students follow the directions and grow in their understanding of the elements of art, but then add their own flair to their projects based on their personality and ability. I also serve as principal of our small school, so the Arts Attack program has been a great time-saver as it is "ready-to-go" with its video lesson and clear explanation of materials needed.

Here are some of the lessons I have done with my 7th and 8th students, which show the students' work on line, shading, value, and color:
We are looking for our next Arts Attack Teacher of the Month!
The teacher of the month will win an ART SUPPLY KIT and will be featured on our Blog and Facebook group. Click the button below for more details.