Learn More about our Great Masters Virtual Museum!
Students really learn about the Great Masters with this program!

The Great Masters Virtual Museum is an art appreciation and art history supplement to the Arts Attack curricula. It is organized into seven galleries:
American Art
Renaissance Art and the Dutch Masters
Impressionism
Post-Impressionism
Cubism and Fauvism
Expressionism and Surrealism, and the School of Paris
Miscellaneous Art
Each work of art is accompanied by an associated discussion guide. Discussion Guides include the following sections:
About the Artist
About the Artwork
Discussion Questions (for class discussion)
Activities and Extension (ideas for connecting the art lesson with other subject areas)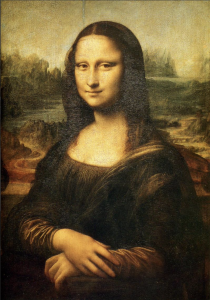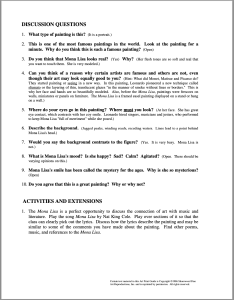 Which artists are in each grade?
Grade K 
Vincent van Gogh
Auguste Macke
Henri Rousseau
Pablo Picasso
Alexander Calder
Claude Monet
William H. Johnson
Currier and Ives
Winslow Homer
Georgia O'Keeffe
Pierre-Auguste Renoir
Henri Matisse
Grade 1
Joan Miro
Paul Klee
Frederic Remington
Francisco Goya
Vincent van Gogh
Pieter de Hooch
Odilon Redon
Pieter Brueghel
Pablo Picasso
Edgar Degas
Mary Cassatt
Grade 2
Vincent van Gogh
Auguste Macke
Wassily Kandinsky
Henri Rousseau
Georges Seurat
Amedeo Modigliani
Paul Gauguin
Pablo Picasso
Henri Matisse
Mary Cassatt
Raoul Dufy
Grade 3
Georges Seurat
Georges Braque
Georges Rouault
Raoul Dufy
Jacob Lawrence
Henri Rousseau
Claude Monet
Paul Cornoyer
Johannes Vermeer
Cave Art from Lascaux, France
Grade 4
Henri Matisse
Claude Monet
George Bellows
Leonardo da Vinci
Paul Cezanne
Henry Tanner
Marc Chagall
Vincent van Gogh
Georges Seurat
Georges Braque
Franz Marc
Grade 5
Currier and Ives
George Caleb Bingham
William Harnett
Joseph Pickett
Frederic Remington
Winslow Homer
Albert Pinkham Ryder
Paul Cezanne
Georgia O'Keeffe
Paul Cezanne
Paul Gauguin
Grade 6
Rembrandt van Rjin
Pierre Bonnard
Pablo Picasso
Raoul Dufy
Henri de Toulouse-Lautrec
Henri Rousseau
Claude Monet
Faith Ringgold
Vincent van Gogh
Utagawa Hiroshige
Andre Derain
Grade 7
Joseph Stella
Wassily Kandinsky
Johannes Vermeer
Rembrandt van Rijn
Nicholas Hilliard
Edvard Munch
El Greco
Raphael
Pablo Picasso
Leonardo da Vinci
Paul Klee
Frederic Remington
Jean-Francois Millet
Hans Holbein (The Younger)
Grade 8
Edward Hicks
Albert Bierstadt
Andy Warhol
Jean-Francois Millet
Pierre-Auguste Renoir
Richard Woodville
Claude Monet
Henri Rousseau
Alexander Calder
Johannes Vermeer
David Hockney
Wassily Kandinsky
The Great Masters Virtual Museum is available as a 5-year subscription. It can be shared among all of the classrooms in a school. It can be purchased individually by grade level or as a complete K-8 package.
The Great Masters Virtual Museum is a great way to "take your students to the museum"!