Learn More About Marvelous Masters
Marvelous Masters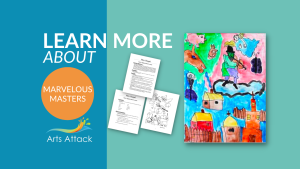 MARVELOUS MASTERS by Arts Attack is a program that focuses solely on teaching students about some of the great artists, teaching the artistic style of these artists, and having the students create original artworks in that style. It is designed for students and teachers who want a strong focus on the artists, as compared to the Arts Attack Curriculum, which has a broader scope covering the elements and principles of art, drawing technique, self-expression, media exploration, and multicultural art, as well as the masters and their artistic styles.
MARVELOUS MASTERS has four levels designed for different ages (Grades K-1, Grades 2-3, Grades 4-5, and Grades 6-8). Each level has 7 lessons, each teaching a different artist, along with at least 12 artworks by that group of artists, each with discussion guides and suggested other activities and extensions.
MARVELOUS MASTERS also includes the Arts Attack Teacher Training Video. For classrooms or students with little prior experience in art, we suggest that you teach the 2 lessons in this video before you begin the lessons on the Artists. These lessons teach the color wheel, proper use of the paintbrush, and contour (right brain) drawing, and will give your students the background they will need to achieve best results.
Each grade consists of 12 lessons with a 1-Year subscription designed for use in a single classroom by the classroom teacher, art teacher or parent art docent.
These courses can be taught by teachers or parents with little or no art or art education background, as well as by those with considerable art education training – achieving exceptional results in both cases.
The artists covered in each level are the following:
Grades K-1
Pablo Picasso (Hands and Flowers)
Vincent van Gogh
Georgia O'Keeffe
Alexander Calder
Joan Miro
Paul Klee
Henri Matisse (Cut-outs)
Grades 2-3
Amedeo Modigliani
Pablo Picasso (Mother and Child)
Claude Monet
Wassily Kandinsky
Georges Rouault
Henri Rousseau
Raoul Dufy
Grades 4-5
Georges Braque
Henri Matisse
Mark Chagall
Franz Marc
Winslow Homer
William H. Johnson
Paul Gauguin
Grades 6-8
Henri Toulouse-Lautrec
Pablo Picasso (Cubism)
Georges Seurat
Faith Ringgold
David Hockney
Albert Bierstadt
Edward Hicks
Each of the Grade level subscriptions are $179 for one year designed for one classroom.
Art Supply Kits
The Marvelous Masters Series has the option to order art supplies customized for this series for classrooms. Please contact us for a quote EMAIL or fill out this questionaire to expidite a shipping quote SUPPLY QUOTE FORM